How Difficult Are The Blue Derby Mountain Bike Trails?
We often get asked this question in relation to a guest's riding ability - how difficult are the Blue Derby Mountain Bike Trails? A good question and our detailed answers are included below.
Natural Setting
The Blue Derby Mountain Bike Trails are set within North East Tasmania's dense native forest. This means the trails themselves are often winding within wonderfully large trees which results in dense, dark soil to ride on. This soil makes for grippy, excellent riding.
Trail Variety
The Blue Derby Mountain Bike Trail Network is designed with ample green (beginner), blue (intermediate) and black (advanced) trail options. Like a ski destination, the further you ride into the network, the harder the trails will get. This means that whether you are a beginner, intermediate or advanced rider there will be plenty of trail options for you.
In addition to options, all trails have 'A' and 'B' lines that you can take. This means even if you feel like challenging yourself on a harder run, there will be an easier line at a technical section if this is beyond your ability.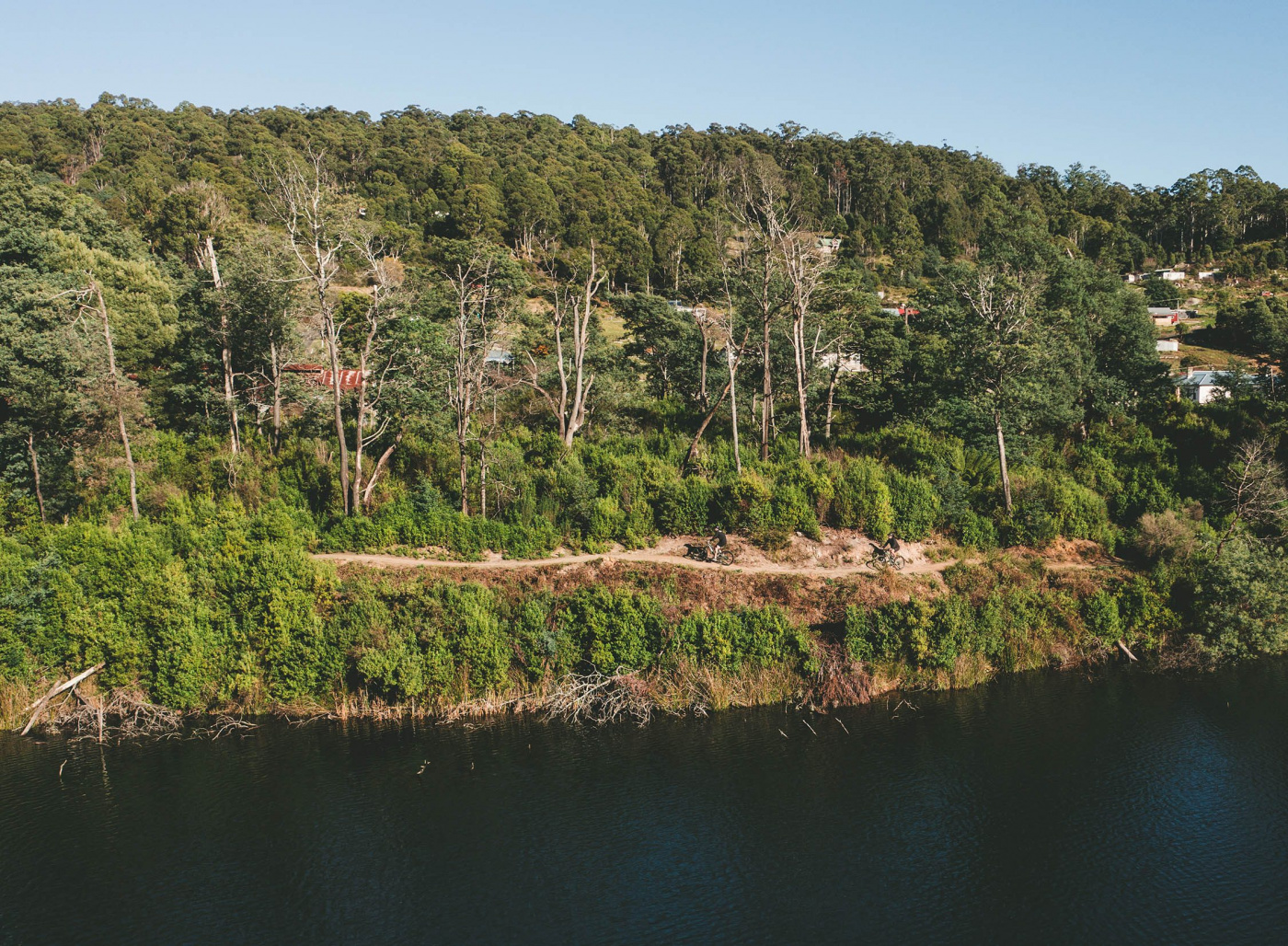 Experience Leaders
We often speak about how wonderful it is to have two Experience Leaders who are qualified mountain bike coaches join you on our Experiences. But, when it comes to managing trail difficulty, this is definitely when we see guests reap the benefits.
For a beginner mountain bike rider, our Experience Leaders can help you upskill so you can enjoy the trails while ensuring you tackle your chosen trails safely. For an intermediate or advanced mountain biker our Experience Leaders can quickly find lines and trails that suit your ability and add those extra challenges when you desire them.
These are our views, but below is a guest testimonial sharing their thoughts on the Blue Derby Mountain Bike Trails and our Experience Leaders.
My husband and I spent a fantastic couple of days and New Year's with Dani and Tim of Blue Derby Pods Ride hosting and guiding us and the other 2 guests through the wonderful landscapes, trails and scenery of Derby. From the moment we were picked up in Launceston our adventure began - our bikes personally fitted, great coffee, our shuttle ride to Derby and scenic tour and history lesson on route. Tim and Dani are both accomplished and passionate riders and their enthusiasm and ability to inspire, guide and coach with such patience and good humour was amazing. Not only were they our bike guides they were consummate hosts and able to read each rider and their individual strengths, abilities and trails to suit. We were very well catered for with ample provisions of fresh and locally sourced Tasmanian produce which Dani and Tim put together with help from Amanda for the picnics. Steve and Tara who are the proprietors have developed a truly unique experience for riders and visitors alike. Pods that rest in the trees with barely a footprint and a beautiful use of materials to complement the surroundings and Tasmanian vibe. Their philosophy and desire and design is a wonderful example of eco tourism treading lightly and enjoying fully the wonder of the region and experiences to be had whether on wheels or foot or at the table or by a river or in the paddock. Thank you for hosting us and we hope to return!
Anne Maree and Dries (Google Review)