Producer Profile - Tasman Sea Salt
Indulging in as many Tasmanian delights while on our Experiences as possible is part of what makes our guests time with us so wonderful.
We are thrilled to feature one of our producers, Tasman Sea Salt, in a Q&A for our blog. As you will read, Chris and Alice, just like their salt, are as genuine as they get. Enjoy!
Chris and Alice, why salt and why Tasmania?
More than any other ingredient, salt has the greatest impact on flavour, and Chris and I are both really into food and flavour… we're pretty greedy to be honest! The idea came about when we were here in Tassie on holiday. Chris is Tasmanian originally and I am from the UK, and we saw that people were using salt imported from the UK which seemed crazy given how pristine the ocean was here. We thought you must be able to make a far better, more delicious and clean salt, using the beautiful Tasmanian ocean rather than the English Channel – and it turns out we were right.
What makes your Tasman sea salt so special?
It's really the mineral profile of the water here in Tassie, and how clean it is. Because of the purity of the Tasmanian sea water, unlike other sea salts we don't need to clean or rinse the salt in the production process. This means that all the minerals and nutrients from the ocean stay in the salt and that is what gives our salt its wonderful depth of flavour – and its bright white salt flakes.
We've also developed a salt harvesting process that is totally unique to salt production which uses naturally occurring energy – so solar energy from the sun and thermal energy from the ocean. Protecting the pristine Tasmanian environment, which is crucial to the quality of our salt, was hugely important to us.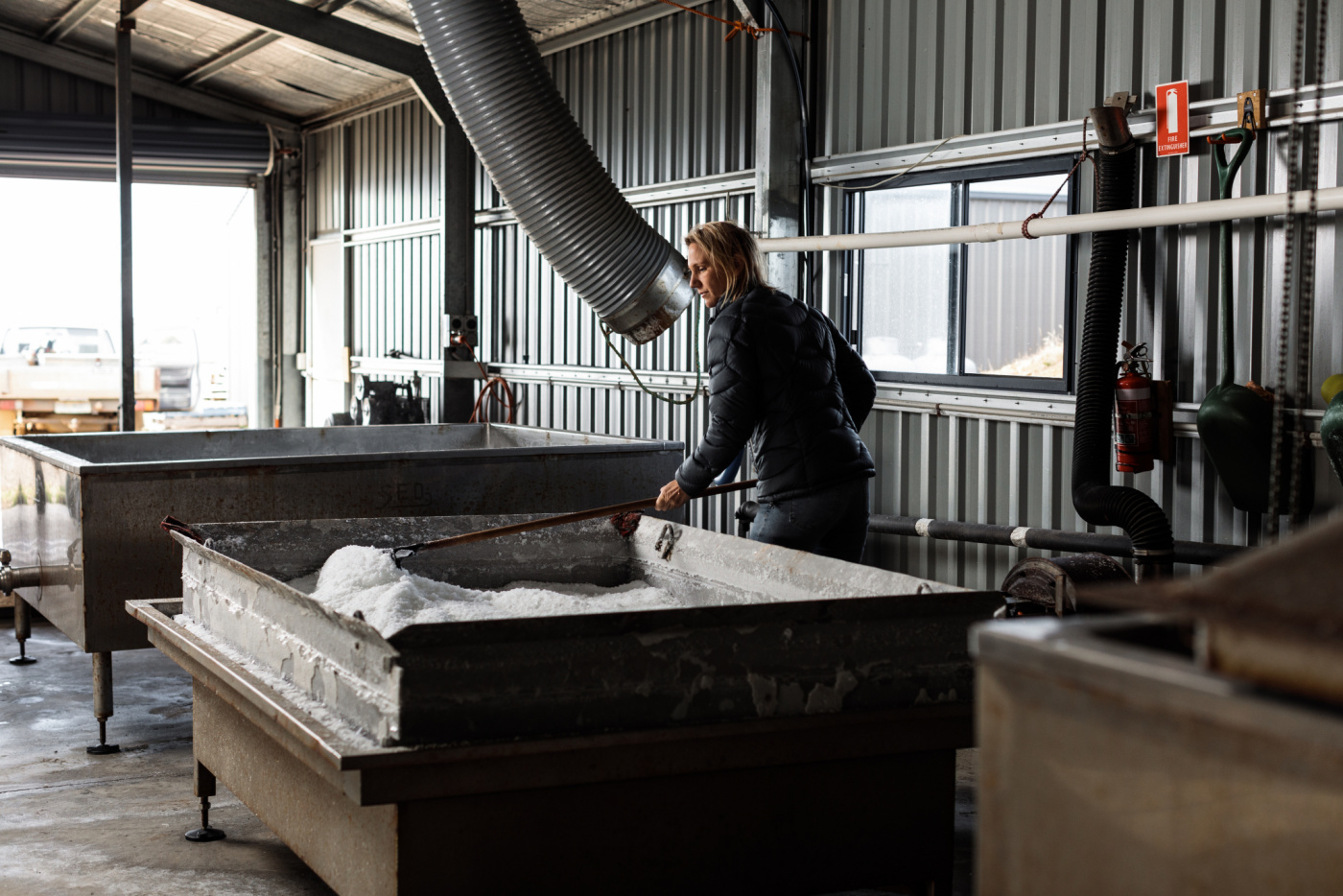 Bar trying this during a Blue Derby Pods Ride experience, how can guests can their hands on some of your salt?
Tasman Sea Salt is used in some of the top restaurants across Tasmania and the mainland and is sold in grocery stores, providors and IGA's across Australia. We have a store locator on our website so your guests can find their closest stockist that way. Or alternatively, we have an online store, we ship our salts Australia wide.
Your favourite way of using salt that not everyone would know about?
For me, the most amazing thing that salt does is balance out flavours – it brings out the sweetness in things and balances out the bitterness. It's such an amazing ingredient. Because of this, and my love of salt and sweet, I would say salt with bitter dark chocolate is just the best combination. The salt balances out the bitterness and really brings the flavour of the chocolate to life. We have a fantastic recipe for a dark chocolate and smoked salt tart on our website that is really simple and unbelievably delicious.
Lastly, what the next big thing for Tasman Sea Salt?
We have recently started running a new experience at the saltworks called the Salt Sommelier which has been going really well. It's an intimate and interactive dive into the world of salt, starting with a tour of our unique clean energy saltworks, followed by paired tastings of our range of sea salts with locally sourced produce. We are currently running the tours on a Thursday or Friday at 2pm for general booking, or at other times, by appointment, for groups of six or more.