Australian Professional Cyclist Tiffany Cromwell Swaps Tarmac for Tassie Soil
We recently had Australian Professional Cyclist Tiffany Cromwell join us on a Blue Derby Pods Ride 3-Day Experience. After her time with us, we took the time to interview Tiffany about all things mountain biking, road cycling, Derby, and of course... her opinion on The Blue Derby Mountain Bike Trails!
Tiff, thank you so much for joining us in Derby, we are glad you loved it as much as we do!
Interview with Tiffany Cromwell
Tiff, you spend the majority of your year living in Monaco, competing the world pro road cycling circuit and because of this you only get to come back to your home country of Australia for short period of time each year. What about the little town of Derby in Tasmania was enticing enough to spend some of that precious Australian time?
Whenever I come back to Australia for the short time each year, I do generally spend most of my time in Adelaide with my family. I also love adventure and exploring new places. We're fortunate enough to have so many beautiful places to explore in Australia. For me it was a combination of things that enticed me to come and spend some time in the little town of Derby in Tasmania. I had my boyfriend visiting me from Europe, so I was on the look out for different adventures we could have together to give him unique and special Australian experiences. We both love nature, riding bikes and discovering places that are perhaps lesser well known. We both love to mountain bike sometimes too. Derby is a place I have heard talked about and how amazing the mountain bike trail network is. So when a friend (Katya Crema) who had already visited a few times, reached out and told me about Blue Derby Pods Ride, I checked out their instagram and I was sold instantly. After chatting with one of the owners, Tara, I couldn't wait to come and visit. We were fortunate that there was a spot available on dates that worked perfectly for us. Blue Derby Pods Ride is an off the grid luxury style trip with amazing meals made with fresh local produce, trail guides, high level bikes to use, private surrounds, beautiful accomodation and in a special part of Australia and the world. It was an easy decision. It also fitted perfectly in with my pre season training, a chance to mix things up, get away from the road for a few days and change up the scenery.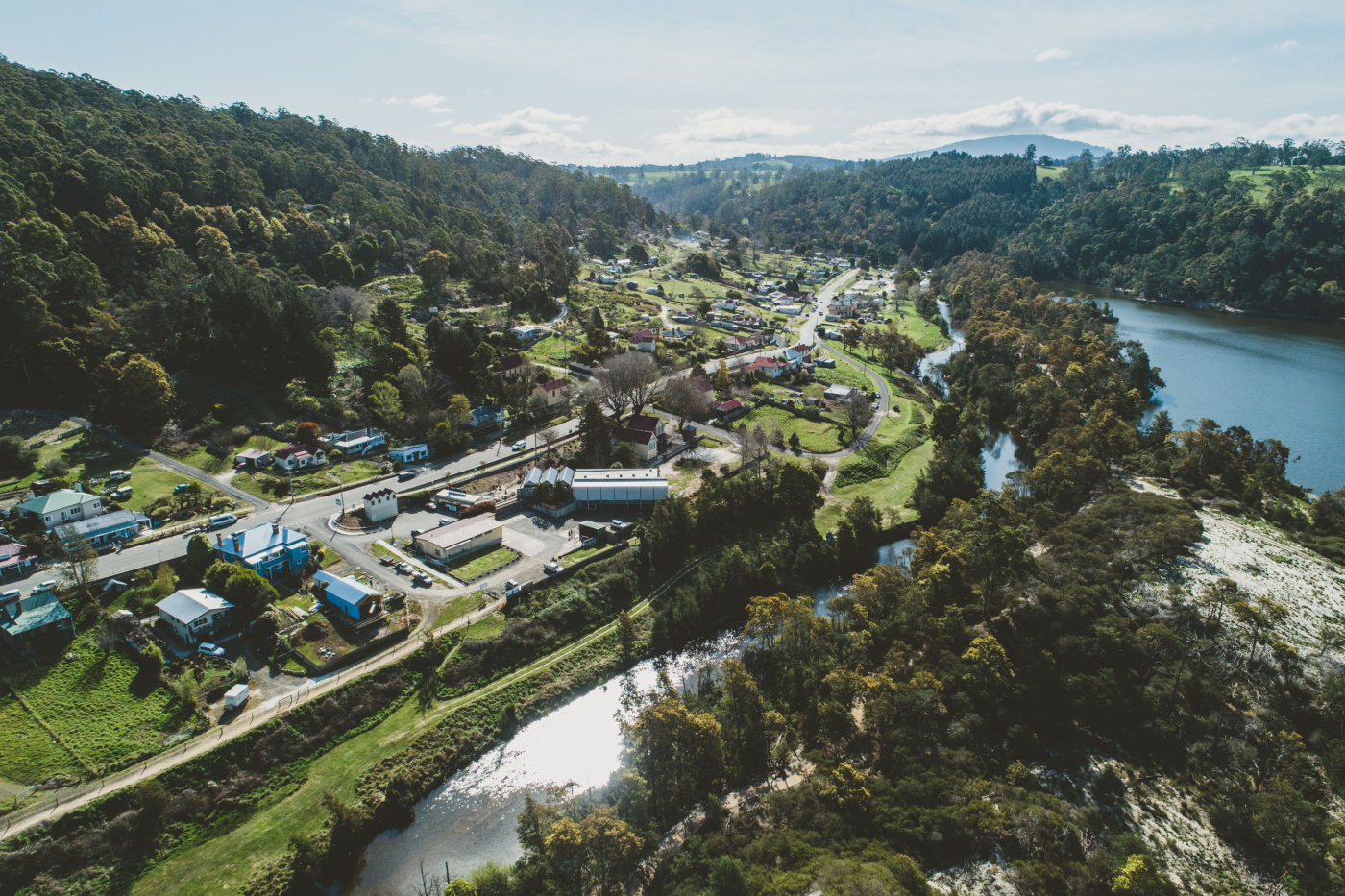 Now you have spent three-days exploring Derby on an Experience with us, what are some of the characteristics you love most about this town and the mountain bike trails?
Derby is such a quaint little town that has clearly adapted to the sudden influx of mountain bikers coming to visit. A few good coffee shops, bike shops to hire or service your bikes if needed. At times there is a hive of activity in the town, but then you head off on one of the many trails and you feel like you are all by yourself at times. It feels like there is a really nice community of locals there that look out for each other. It's a very laid back vibe and I loved it. I loved that the trail network really has something for everyone. From easy family style green runs. To challenging, but not too challenging blue runs, and then for the dare devils you have black and double black runs. The trails are maintained super well. I loved that they were quite flowy and natural, but still 'manicured' enough that they were fun to ride whilst still using many elements of the nature to give extra character to the trails. I also loved the mixed feeling of the surrounds. At times you were riding in a lush forest with lots of greenery, red dirt, granite rocks, and ferns whilst other times it was more of an Australian bush environment through the eucalyptus trees. I also loved the many swimming spots available, from the more popular lake by the town to small little watering holes and waterfalls along the creeks where you can be all by yourself. It's just an amazing destination and I now see why it's so highly talked about as a destination to experience.
We are sure many are wondering.. you have swapped road cycling for mountain biking with a click of your fingers. Was there much adjustment required here or do the two really complement each other?
Mountain bike riding and road cycling I do feel complement themselves both really well, but at the same time they do require completely different skill sets. Often you find road cyclists do struggle a bit more crossing over to mountain biking, especially when it comes to the more technical trails. Whereas I feel it's easier for mountain bike riders to cross over to the road. For me though, I think because from a young age I've focused on bike skills and handling through both the track and road I adapt quite quickly to other disciplines. I also love to get out on the trails whenever I can and have had many very experienced and world class mountain bike riders to learn the techniques and skills of mountain biking from over the years that has helped make swapping between the two disciplines easier. That being said, I do feel like it takes a day or two to get my flow when I jump back on the mountain bike. As the biggest differences are you need to allow yourself to let go of the brakes through the faster, technical sections and just be relaxed knowing the bike can take in the demands of getting over the rocks and tree roots and other bumps that are along the trail. You also need to get in your head that the feeling of the wheels sliding underneath you around corners is ok, to an extent. I think this is the hardest adjustment, as when you feel this on the road bike it's a sign you're likely to crash. Whereas on the mountain bike it is often a way to get around the corner smoother/quicker. The other big adjustment is the ability to be able to focus your vision far ahead of you and not look at the obstacles in your short line of vision. Then you role over the smaller obstacles much easier and can be much faster along the trail. The other adjustment is also dealing with the super tight turns and knowing where to have your body weight on the bike. It's a lot more of a full body workout riding the mountain bike than it is the road bike. Overall though I think challenging yourself with other disciplines of cycling is always going to complement your main discipline and help make you more of a complete cyclist.
Having a local guide is extra special when visiting Derby, what did you love most about having a local show you around the trails?
Having a local guide showing us around the trails in Derby was amazing. In mountain biking, I think having a local guide is always very important. Someone who knows the demands of the trails and what obstacles are coming up is important to help give the heads up so you don't suddenly find yourself in trouble with an obstacle that is too challenging for your skills, or not being ready for it. The guides listened to us and the level of technical trails we were willing to ride, making sure we were never guided along anything that was beyond our skill levels. They were also so knowledgeable of the area and the native species of plants and animals, along with the history and other random facts. An added and special touch to learn more about the area beyond the trails.
We are so fortunate to have an incredible location for our accommodation, literally in the middle of the Blue Derby Mountain Bike Trails network, tell us about your first impression when you arrived here?
You literally have the most amazing location for the accommodation. First impressions were amazing, cozy, off-grid, peaceful, wild, natural luxury, serenity. I already had some impressions in my mind about the accomodation, from looking at the various pictures. But arriving there along the 'hidden mountain bike trail' to the accomodation was beautiful. You could hear the sounds of the nature. I loved the eco-natural and quaint architecture of the accomodation. The pods are the perfect little 'tree house' to snuggle in with your partner and just feel like you're a world away. The showers felt like you were basically bathing with the nature. I loved the main quarters for its spacious yet minimalistic design. With big glass windows to just sit there and take in the tranquility of the surrounds. It felt incredibly zen.
Highlight of your 3-days with us (if you can identify just one!)?
There were truly so many, but I think the final day stood out the most. The Blue Tier experience. Starting from the accomodation with a few warm up runs down to the town before being transported to the highest points of the Blue Tier region. Having a moment to reach the highest point and taking in the panoramic views across the North East corner of Tasmania giving a true sense of the large pocket of beauty this place has. Then it was 17km of amazing single track down to the bottom. Continual changing surrounds and awesome flowy trails that took us to a beautiful open paddock where the team was waiting for us with a final picnic to enjoy at the end. We finished up with a little bathe in the creek below. It was wild and for sure a highlight of the trip. But truly every part of it was amazing. What the team at Blue Derby Pods Ride have created is truly magical.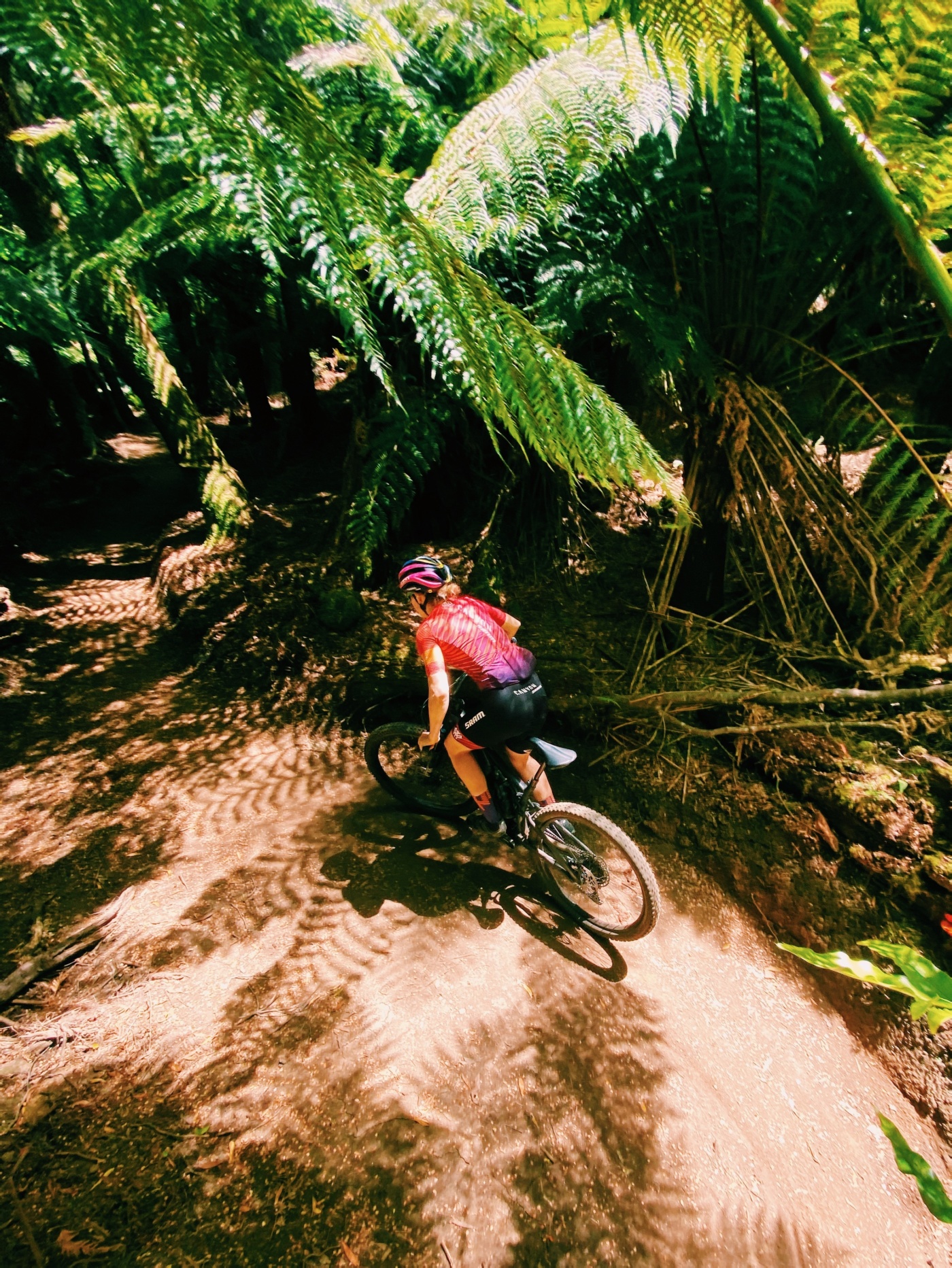 Biggest tip for a guest joining us in the future?
Be open minded, get outside your comfort zones and allow yourself to disconnect from the outside world to truly enjoy the complete experience.
Best piece of advice for a budding pro-cyclist?
Don't be afraid to ask questions, make the most of every opportunity and don't forget to remember the enjoyment and the reasons why you started cycling in the first place.
Interesting non-cycling fact about you?
I've lived in 6 different countries and can speak words in many different languages. I'm just not yet fluent in anything other than English. I'm also full of lots of random information and facts.
Favourite inspirational quote?
Live every day like your last.
About Tiffany Cromwell
Tiffany Cromwell is currently one of Australia's top female road cyclists on the international circuit, chasing her dream to become the best female cyclist in the world. With victories in some of the biggest races around the world and part of many team successes, Tiffany is looking to continue her upward trajectory with the German registered CANYON//SRAM Racing Team. Not only does Tiffany ride bikes, she's also an aspiring designer working on her brand Tiffany Jane designs. From freelance cycling apparel design to collaboration projects with exciting brands, be sure to look out for her creative flair. Follow Tiffany on her journey around the world as a professional cyclist as she builds towards a bid at selection for the Tokyo 2020 Olympics, and get behind the ambitious Australian.